Keto meal prep ideas that will make your life easier. Lose weight with these easy keto recipes.
Meal Prep is a simple tool that will allow to stay on the keto diet without effort and sacrifice.
Easy keto food prep that will enable you to stay on track and enjoy delicious meals. Good for keto dinners or Keto lunches
Keto Meal Prep Ideas
Here are some of the ketogenic meal prep recipe ideas you should try!
1. Instant Pot Beef and Broccoli
This beef and broccoli dinner is delicious and flavorful, yet uses simple ingredients that cook quickly in a pressure cooker.
Sugar can be easily substituted with erythritol for a low carb option.
Per Serving:
Calories: 520
Fats: 30g
Net Carbs: 7.5g
Protein: 51g
Find recipe here
2. Turkey Meatballs Zucchini Noodles
These Healthy Meal Prep Baked Turkey Meatballs are going to be an amazing addition to your healthy eating plan!
They're loaded with lean protein and lots of delicious flavor!
This recipe makes 45 meatballs and they freeze perfectly – a fabulous recipe to help you meal prep for the week!
Per Serving:
Calories: 184
Fats: 8g
Net Carbs: 4g
Protein: 24g
Find Recipe here
3. Keto Stuffed Peppers
This is like eating a very cheese lasagna. You will not miss the noodles… trust me!
These cheesy spicy Keto Stuffed Peppers come together in only 20 minutes for a totally delicious, keto-friendly, low carb friendly and family friendly meal for busy weeknights.
Per Serving:
Calories: 247
Fats: 15g
Net Carbs: 9g
Protein: 22g
Find Keto stuffed peppers recipe here
4. Low Carb Chicken with Cauliflower Rice
Santa Fe chicken low carb meal prep has cilantro lime cauliflower rice and bell peppers topped with seasoned chicken breast and cheese! 8 g net carbs.
Find recipe here
Per Serving:
Calories: 303
Fats: 16g
Net Carbs: 11 g
Protein: 28g
5. Taco Salad
Meal Prep Taco Salad Lunch Bowls that you can make ahead!
These easy taco salads are filled with taco beef, lettuce, cheese, black beans, corn and salsa!
Per Serving:
Calories:
Fats: g
Net Carbs: g
Protein: g
Find recipe here
Keto Food Prep Dinner Ideas
6. Chicken Lettuce Wraps
Lettuce wraps are a low carb and delicious weekly meal.
It can be made ahead of time for weekly meal prep.
Find recipe here
Per Serving:
Calories: 275
Fats: 14g
Net Carbs: 17 g
Protein: 22g
7. Italian Chicken Salad
Could you use a new meal prep salad that's healthy AND delicious?
This Italian Chicken Salad is the perfect mix of Italian flavors and healthy ingredients to keep you full for hours.
If you need lunch salad ideas, you'll love this one!
Find recipe here
Per Serving:
Calories: 156
Fats: 3g
Net Carbs: 6 g
Protein: 22g
8. Buffalo Chicken Ranch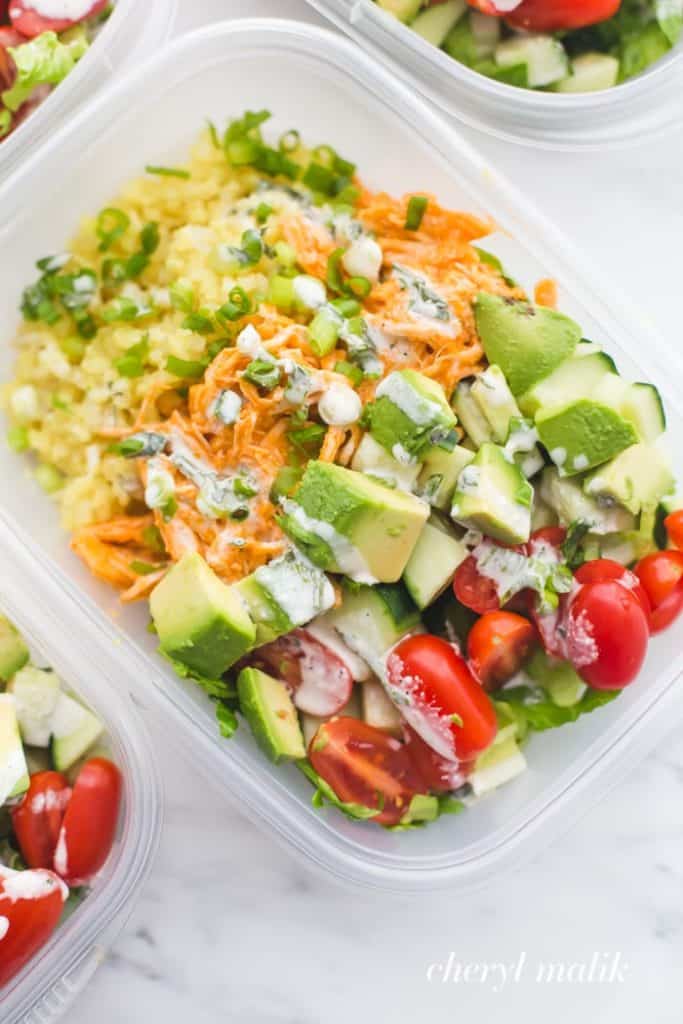 Meal prep ideas that's easy and loaded with flavor. Cauliflower rice, shredded buffalo chicken, veggies, and ranch dressing make this meal prep recipe a favorite.
Perfect for Keto, paleo, and low carb.
Find recipe here
Per Serving:
Calories: 287
Fats: 21g
Net Carbs: 5 g
Protein: 12g
9. Sausage with Onions and Peppers
If you are looking for a healthy and delicious meal in just minutes!
You will love this perfectly seasoned mixture of Italian sausage, onions, and peppers.
Whole30 compliant, gluten-free and dairy-free, keto diet friendly and Low carb approved.
Find Sausage with Onions and Peppers recipe
Per Serving:
Calories: 438
Fats: 24g
Net Carbs: 9 g
Protein: 22g
10. Egg Sandwiches
Sheet pan eggs recipe that makes a perfectly healthy breakfast, light lunch, or brunch.
An easy way to cook eggs to a crowd or for meal planning
Per Serving:
Calories: 220
Fats: 15g
Net Carbs: 7 g
Protein: 15g
For recipe here
Keto Meal Prep Conclusion
Hope you'll find these keto meal prep ideas helpful and delicious.. Keep checking for more easy keto recipes to come.
P.S. Sharing is caring – pin your favorite ketogenic recipes from this post on Pinterest, so others can find them too!
…..and check back for more!
I will keep updating!
More Meal Prep Recipes
Follow Dear Mica on Pinterest
Want to see the more recipes appear in your daily Pinterest feed? Make sure to follow Dear Mica on Pinterest and never miss out on any new recipes
More Keto Recipes