What is not to like about this keto chicken cordon bleu? A cheesy stuffed chicken with a creamy sauce that is velvety smooth and is bursting with flavors.
If you are looking for Keto Chicken Recipes you will find them here!
This low carb chicken cordon bleu is also a great keto recipe to add on to your recipe box.
It can easily be prepared ahead of time and kept in the fridge till needed.
Plus reheats perfectly so you can enjoy this delicious cheesy stuffed chicken any day of the week.
As good as it might seem, sometimes we all get bored if we eat the same thing day after day.
Switching things up and trying new recipes especially when they are easy to make and very few steps involved help us keep our sanity.
I hope you enjoy this easy to make stuffed chicken.
keto chicken cordon bleu Ingredients
– Chicken breast: Boneless and skinless chicken breast.
– Swiss cheese: Sliced swiss cheese for easy assembly.
– Ham: You can use any ham style you prefer. Virginia, roasted, black forest ham for example.
– Egg: A whole egg.
– Parmesan cheese: Freshly grated parmesan cheese.
– Heavy cream: Full fat or whole milk heavy cream.
– Cream cheese: Any brand cream cheese as long as is whole milk.
– Almond flour: For a nut free version you can use coconut flour.
– Garlic powder: Garlic powder only. This is one of the few recipes where I do not use fresh garlic
– Herb de Provence: If you can't find or don't like herb de Provence you can use any herb combination of your liking.
– Butter: Salted butter is my go-to for this recipe.
– Salt and Pepper: I use fresh ground sea salt and ground black pepper.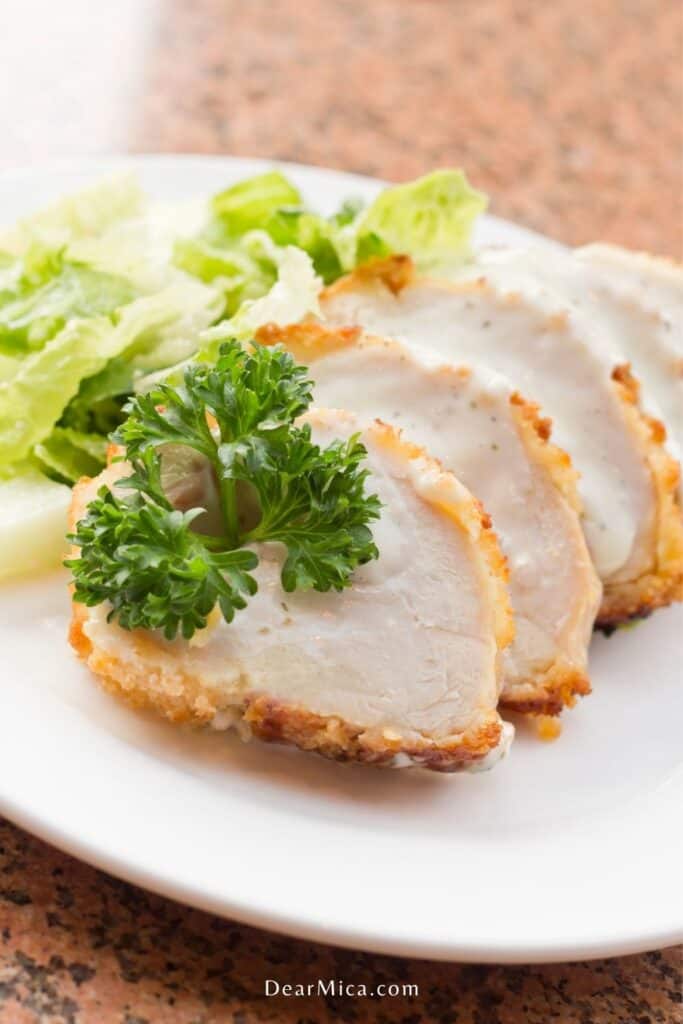 This classic French dish is made with chicken and ham cut in slices and cooked in a creamy sauce.
The cheese filled center and the crispy coating make this dish one of my favorites.
I like to serve keto chicken cordon bleu over cauliflower rice or a creamy mashed cauliflower.
Simply delicious!
This stuffed chicken is also great for meal prep since it tastes amazing cold or reheated.
It's very simple to make and it takes about 1 hour from start to finish.
This creamy cordon bleu will become a family favorite and a must have for your weekly meal prep plan.
ENJOY!
Keto Chicken Cordon Bleu Recipe
Yield:

4 servings
Keto Chicken Cordon Bleu Recipe
A cheesy stuffed chicken with a creamy sauce that is velvety smooth and is bursting with flavors. It can easily be prepared ahead of time and kept in the fridge till needed.
Ingredients
Ingredients For The Chicken
4 boneless chicken breast
4 slices swiss cheese
4 slices deli ham
1 egg beaten
¾ cup finely grated parmesan cheese
½ cup finely ground almond flour
1 teaspoons garlic powder
1 tablespoon herb de Provence
1 tablespoons butter
Salt and Pepper
Ingredients For The Sauce
2 tablespoon butter
½ cup chicken broth
½ cup heavy cream
2 ounces cream cheese
1 tablespoon dijon mustard
½ cup shredded parmesan cheese
Salt and pepper to taste
Instructions
Instructions For The Chicken

1. Preheat oven to 350 degrees F.

2. Cut the chicken breast open lengthwise (without cutting all the way through). Using a mallet pound the chicken until 1/4 inch thick.

3. Season lightly both sides of the chicken cutlet with mixtures of salt, pepper, garlic powder and herb de provence.

4. Place one slice of cheese and ham each in the middle of each piece of chicken then roll it up close and set aside. See Note

5. On a shallow dish beat 1 egg and on another shallow dish mix the almond flower with salt, pepper, garlic powder and herb de provence.

6. Dip each chicken roll up in the egg and then roll it into the almond flower and set aside.

7. Heat a non-stick pan over medium high heat and melt butter in the pan.

8. Place each chicken rolls seam side down on the heated saute pan and cook for about 3-4 minutes per side or until lightly browned. Add more butter if needed.

9. Place the chicken rolls on a baking sheet lined with parchment paper (or aluminum foil) and bake for about 10 minutes or until cooked through.

10. Remove the chicken from the oven let it rest for about 5 minutes then slice and serve with sauce on top.

Instructions For The Sauce

1. While the chicken is in the oven melt butter in small saucepan over medium heat.

2. Add chicken broth and bring to a boil.

3. Whisk in cream cheese until melted followed by mustard, heavy cream and shredded parmesan cheese.

4. Season with salt and pepper as needed.

5. Serve the chicken sliced with the sauce either poured on top or served on the side.
Notes
Note 1: I pounded my chicken between two layers of plastic wrap.

Note 2: For extra crispy, I put the chicken roll in a shallow dish and under the broiler for a 1 minute. Be careful not to overcook chicken.

Note 3: If the chicken is not staying rolled up you can secure it with toothpicks.
Nutrition Information
Yield
6
Serving Size
1
Amount Per Serving
Calories

521
Total Fat

36g
Saturated Fat

18g
Trans Fat

1g
Unsaturated Fat

15g
Cholesterol

185mg
Sodium

927mg
Carbohydrates

6g
Fiber

1g
Sugar

2g
Protein

43g
More Chicken Recipes
Baked Chicken with Garlic-Butter Sauce
Don't Forget To Save This Keto Chicken Cordon Bleu
Related Posts