I love Christmas dinner and with this collection of low carb Christmas recipes, you can make a fantastic Christmas dinner that everyone will love.
For me it's a time to spend with the whole family and enjoy a delicious meal together.
The best thing about these recipes is they are all very easy to make and taste amazing too.
This year I'm trying something a little different, though.
I'm going to try to make Low Carb Christmas Recipes that I can enjoy with the entire family and friends without feeling guilty.
My goal is to create Low Carb Christmas dinner that can be enjoyed by everyone at the table.
Christmas Low Carb Main Course
I love all of the traditional Christmas foods like roasted turkey and ham.
That's why I've put together a collection of Low Carb Main Course Recipes that will be sure to please everyone at your Christmas dinner table.
From a delicious Low Carb Garlic Chicken recipe to a mouth-watering Low Carb Ham recipe, there's something for everyone to enjoy.
Christmas Dinner without Ham or Pork is just not Christmas dinner, so you'll want to make sure the main course is delicious and enjoyable for everyone.
Delicious and succulent Ham has been made with Sugar Free Glaze and baked to perfection.
Give this ham recipe a try!
This is not your regular cookout steak, this is a pan seared Ribeye Steak with herb butter.
It's juicy, flavorful and so satisfying you won't be able to stop at just one slice.
An absolutely delicious meal that everyone will love.
Chicken breast is always a hit and this baked chicken recipe with garlic butter sauce is no exception.
Perfectly roasted chicken with a delicious garlic taste that will wow the entire family and company.
You only need one pan to make this easy Low Carb recipe for Sheet Pan Shrimp and Vegetables dinner.
This is a real winner when you want an effortless meal everyone will love.
If the entire family isn't keen on eating veggies, you can always serve it alongside some delicious steamed broccoli or cauliflower rice.
Christmas Low Carb Appetizers
No Christmas dinner is complete without some tasty appetizers to get the taste buds going.
These low carb appetizers are so good, you'll be tempted to make a meal out of them!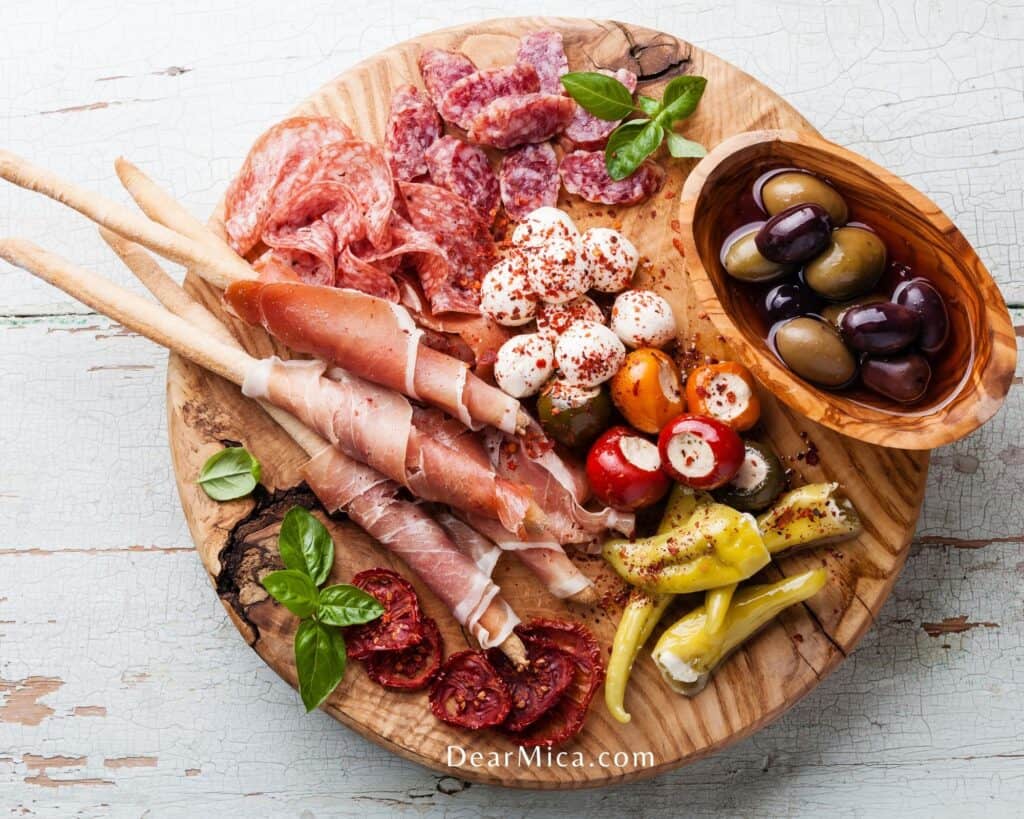 This is an easy antipasto platter with cured meats, cheeses and olives.
You can substitute the meats with others you prefer like pepperoni or salami, but make sure they are sugar free!
Impress the family and friends with this Low Carb Antipasto Platter!
This delicious salad with fresh mozzarella, balsamic vinegar and basil is a great appetizer or side dish.
You can even make it into a low carb side dish and by adding in some delicious salad greens.
This is a fantastic and easy appetizer the entire family will enjoy.
Just take some fresh asparagus, wrap in bacon and bake.
This recipe is amazing because you can vary it up so much to suit your taste!
Christmas Low Carb Side Dishes
No Christmas dinner is complete without a few tasty side dishes.
That's why I've put together a selection of my favorites for you to choose from.
From a simple and delicious Roasted Brussels Sprouts recipe to a creamy Cauliflower mash, there's something for everyone.
What's Christmas dinner without a delicious soup to start things off?
This is such an easy and delicious recipe that even the kids will like.
The combination is amazing and these ingredients make this super easy to make and everyone will love the flavor.
You will be the talk of the town with this amazing creamed spinach recipe.
This is one of the easiest creamed spinach recipes you will ever make.
It takes only 10 minutes to prepare and there are very little ingredients required for it.
You can make this with fresh or frozen spinach, whatever suits your needs best!
This creamy and delicious mashed cauliflower is just as good as the original mashed potatoes.
It tastes great and is so easy to whip up in no time at all!
It's such a delightful light Christmas side dish recipe that no one will even know its not potatoes!
Roasted broccoli is always delicious, but what makes this recipe even better is the Parmesan cheese and the lemon zest.
The blend of flavors make this a delightful side dish that will leave your taste buds wanting more.
Green beans are a classic Christmas side dish, but why not try something new.
This delicious casserole with creamy sauce is just what you are looking for.
You won't have to worry about it being dry or soggy, this Green Bean Casserole recipe is just perfect!
If you love Brussels sprouts, but hate the flavor of boiled ones, this is a recipe for you.
Buttery and creamy roasted brussels sprouts with garlic and lemon zest will turn your whole family into brussels sprouts lovers.
Christmas is the perfect time to indulge in some delicious desserts.
And with these low carb dessert recipes, you can do just that without all the guilt!
There's something for everyone to enjoy this holiday season.
Creme Brulee is a classic dessert to make at Christmas.
It's beautiful, elegant and very simple to make!
The whole family will love this delicious creamy custard with sugar crystals on top.
This wonderful recipe with its amazing flavors is sure to become a favorite of yours and your family's!
The caramelization on the top makes this Low Carb Creme Brulee sooo good!
Are you craving a chocolate fix? Then this flourless brownies recipe is for you!
These brownies are so rich and chocolatey, you'll never know they're low carb, and gluten-free.
They are very rich but are perfect as an after dinner treat or for Sunday family breakfasts.
Christmas is a time to celebrate with family and friends.
And what better way to do that than with a delicious cocktail in hand.
Whether you are looking for a festive Christmas punch or a classic cocktail, we have you covered.
Here are some of my favorite Low Carb Cocktails for Christmas!
Forget the sugar loaded drinks and cocktails that leave you feeling bloated.
This is a delicious drink that will even impress your guests!
Great for Christmas night or New Years Eve party.
If you are hosting the family this Christmas, but don't want to serve alcohol but worry about the carbohydrate count, then don't worry.
You can serve this delicious Low carb cocktail to your guests too!
Looking for a delicious and refreshing keto cocktail?
Try this Raspberry Vodka Spritzer, it's tangy and sweet, perfect for the holidays!
If you love fruit flavored cocktails, this one is for you.
You can even try out different fruits to mix and match them with the raspberry vodka!
17 Low Carb Christmas Recipes
17 Low Carb Christmas Recipes
This collection of low carb Christmas recipes, you can make a fantastic Christmas dinner that everyone will love.
Instructions
Pick a favorite low carb Christmas recipe

Have all ingredients ready

Enjoy a delicious Christmas dinner with family and friends!
More Christmas Recipes
Don't Forget To Save This Low Carb Christmas Recipes
Related Posts