Are you looking for easy recipes for low-carb side dishes?
Sides are what makes a meal complete. These keto side dishes should complement the entrée and be filling enough to substitute for a whole meal if necessary.
If you're looking for easy keto side dishes then keep scrolling because I'm going to show you some low-carb friendly recipes.
The ketogenic diet has become extremely popular over the past few years. Of course, any diet that includes bacon is going to be wildly popular!
The keto lifestyle has many positive effects on people's lives but some of these benefits are not seen for some time (so be patient).
When I first started I was losing weight rapidly like everyone else but it took me about 4 weeks to experience the mental clarity and energy that I get on a regular basis on my low-carb lifestyle.
I want this for you too, so I'm here to show you some tasty recipes!
Now lets's go and see these Low carb side dishes recipes!
This keto roasted green beans is a healthy, delicious and low carb side dish that is perfect for any meal.
This roasted green beans in olive oil, garlic, and parmesan are a delicious low carb side dish that you can it all on it's own.
You an also pair this vegetable side with a keto main course such as this delicious Ribeye steak.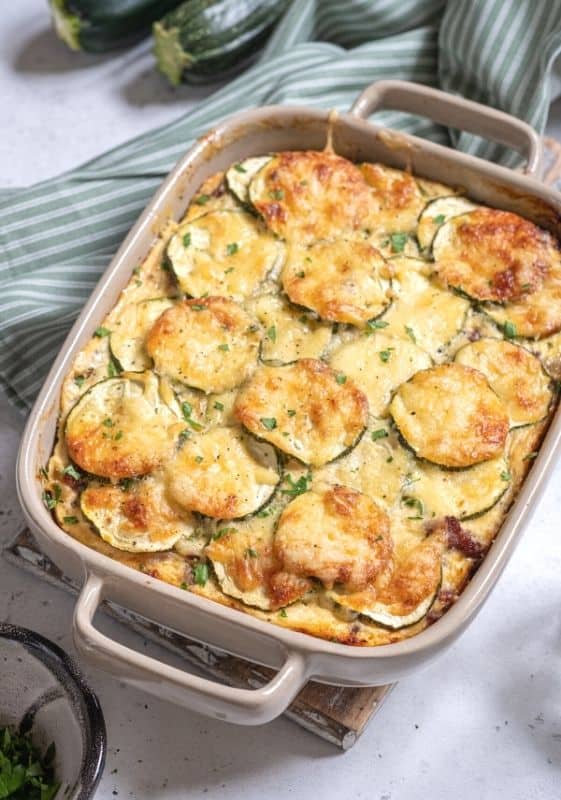 What is not to love about this simple keto recipe?
Just a few ingredients and it's done just in minutes without sacrificing flavor.
That's correct, this Cheesy Zucchini Casserole is a gluten-free, low-carb side dish that everyone in my family will love.
With just 5g of net carbs per serving, this dish is a great way to stick to your keto diet.
Mashed turnips are delicious, nourishing food that comes together easily in a single pan on the stovetop; no special equipment required.
They're also a great low-carb alternative to mashed potatoes.
You can serve together with this easy keto garlic chicken recipe.
Indulge with this creamy goodness while sticking to your low carb diet.
This recipe take spinach to a whole new level!
Mixing a few different cheeses with spices brings this keto side dish to life.
It's creamy and smooth, with a wonderful flavor profile.
Serve alongside a simple protein, such as low carb chicken thighs , for a complete keto meal.
This is a recipe I come back to again and again! It complements a meal I usually have with steak, but it would go well with any meat.
I've made this one many times for guests and everybody loves them!
I cannot rave enough about them.
I absolutely love this recipe. It's so easy to make, and tastes incredible!
The garlic marinade on here is the start this simple dish!
This is a simple dish that's ready in a flash and always receives rave reviews!
Grilled vegetables go well with almost any meat, including beef, fish, and chicken.
People go crazy over these Keto Cauliflower Wings!
Perfect air fryer cauliflower wing each single time I make them.
You are going to love the buttery, tangy sauce paired with surprisingly crispy cauliflower.
The best cauliflower wings I have ever had!
Fantastic flavors blend well together, and who doesn't love garlic?
This is a delicious keto side, creamy, rich and savory. I love to make a larger batch and use it as a filling for lettuce wraps.
It's also wonderful when paired with eggs, blended into soup, over vegetables, or used as a sauce on meat.
This cauliflower rice is so quick and easy to make and is the perfect side for beef, pork, chicken, or fish.
You can also add to this dish to make it a complete meal. You could make a cauliflower fried rice by adding chicken or beef.
If you are looking for a cauliflower dish to make for Christmas Dinner this is the one. It's incredible!
This Keto Salad Recipe is so versatile and you can add or take away ingredients to better fit your macros better.
If you are looking for a simple salad recipe to please a big crowd, look no further.
This is a super quick and easy low-carb side dish recipe that you should definitely try today.
This is an easy side of fritters which are also keto, gluten free, low carb and wheat flour free.
These make a great substitute for hash browns or potatoes for brunch. A must have side for any dinner occasion.
Whip up this quick and easy recipe with just six ingredients and simply enjoy!
This crazy colorful recipe is easy, cheesy, and full of flavor!
It's a great go-to when you need to get a side dish on the table in a hurry.
It could also be a stand alone keto dinner.
A great gluten free, low carb comfort food dinner!
It's next-level delicious and perfect!
A one side dish that is going to stand out from all the rest.
There are some vegetables that you can only eat in moderation on the keto diet.
With recipe is all you can eat. All are keto-friendly vegetables. So eat you heart out!!
This recipe can be made into a keto sheet pan dinner recipe by simply adding a protein like chicken, beef, pork or fish.
It's a delicious keto, low carb, vegan, and gluten-free side dish that is perfect for parties and potlucks.
Make this addicting low-carb side dish in just minutes for a tasty, comforting treat.
This recipe is quick and easy to make with simple ingredients that you probably already have at home.
I make this and eat them while binge watching Netflix.
It's a satisfying low carb comfort food.
A tater tot recipe that are crunchy on the outside, tender on the inside – these low carb tater tots are the perfect accompaniment to burgers or a great snack.
They are quick to make and easy to eat!
This Cheddar Bacon Ranch Dip is always a crowd-pleaser and perfect for your next party.
This low-carb and keto dip is great with chips, veggies, and also goes well in sandwiches or wraps.
This recipe makes a big batch, but it can be easily cut in half to make less.
Low-Carb Side Dishes
15 Best Low-Carb Side Dishes
Easy low-carb side dishes. From salads to fritters and casseroles, these easy side dish recipes make keto lifestyle just easier.
Ingredients
Creamy Broccoli
Cauliflower Rice
Cauliflower Fritters
Spaghetti Squash
Oven Roasted Vegetables
Cucumber Tomato Salad
Tater Tots
Cheddar Bacon Ranch Dip
Instructions
Pick a low-carb side dish recipe.
Have all ingredients ready.
Enjoy a delicious low-carb meal with family and friends!
Other low carb side dishes
Related Posts